VIEW BY MAKE
MOTORCYCLES
PROJECT CARS
WATERCRAFT
SOLD INVENTORY
Austin Healey
1959 Sprite MK 1 Roadster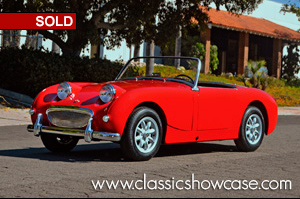 CONDITION:
SHOW-DRIVER
STOCK #:
AH59-797
DESCRIPTION:
This 1959 Austin-Healey "Bugeye" Sprite MK 1 is a great classic sports car that is full of character, and an example that has benefited from a host of performance-minded upgrades. ...
1962 3000 MK II Roadster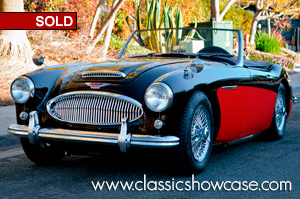 CONDITION:
DRIVER
STOCK #:
AH62-822
DESCRIPTION:
This attractive and sporty 1962 Austin Healey 3000 MK II BT7 Roadster is a new addition to our inventory, and has been the recipient of a bare metal restoration. It comes in an att...
1966 3000 BJ8 MK III Roadster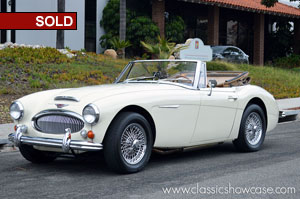 CONDITION:
DRIVER
STOCK #:
AH66-799
DESCRIPTION:
The Austin-Healey 3000 Mark III was the final variation of a handsome line of British sports cars that started in 1953. It offered roll-up windows, a luxurious interior with a waln...
BMW Motorcycles
1967 R60/2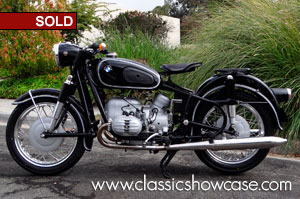 CONDITION:
DRIVER
STOCK #:
BMW67-929
DESCRIPTION:
This matching numbers BMW R60/2 is iconic post-war motorcycle that is finished in period-correct Avus Black, and features a 4-speed transmission. The bike is full of patina, presen...
BSA Motorcycles
Chevrolet
1969 Camaro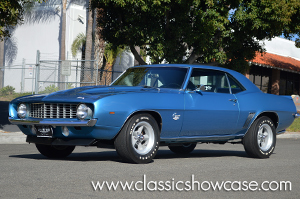 CONDITION:
SHOW-DRIVER
STOCK #:
CH69-463
DESCRIPTION:
This Camaro is a classic American Muscle Car that has benefited from the addition of a Yenko factory-built aluminum engine block that was installed during its rotisserie restoratio...
2001 Corvette Convertible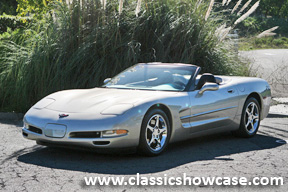 CONDITION:
ORIGINAL-PRESERVED
STOCK #:
CH01-106
DESCRIPTION:
This incredible, one-owner Corvette has always been maintained and only serviced through the Chevrolet dealer. The vehicle was special ordered in 2001 to the owner's specificatio...
2009 Corvette ZR-1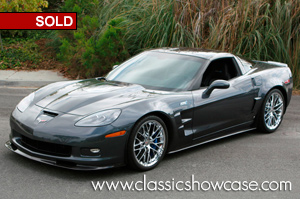 CONDITION:
ORIGINAL-PRESERVED
STOCK #:
CH09-499
DESCRIPTION:
You will truly have an incredible driving experience with everything this beautiful automobile has to offer This ZR1 is a 2 owner from new car with only 7,340 original miles that s...
Cushman
1965 Super Silver Eagle Scooter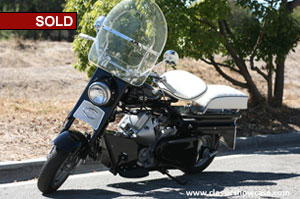 CONDITION:
DRIVER
STOCK #:
CUSH65-873
DESCRIPTION:
This is a very rare and collectable classic Scooter. Classic Showcase has recently completed a cosmetic restoration and full mechanical service including stripping and repainting t...
Fiat
1964 1500 Cabriolet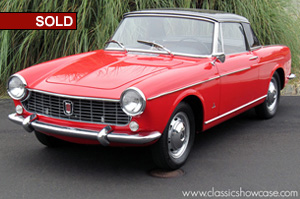 CONDITION:
DRIVER
STOCK #:
FI64-911
DESCRIPTION:
This Pininfarina designed Fiat is a spectacular original example that has held limited ownership since new; it was originally purchased new in Barcelona, Spain but not imported to ...
Ford
2017 Shelby GT350 R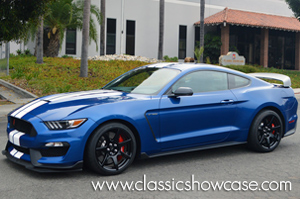 CONDITION:
SHOW
STOCK #:
FO17-318
DESCRIPTION:
If you've ever wanted to experience an amazing, limited-edition sports car equipped with an ultra-high-performance package, we have just the supercar ready for you. This spectacu...
Healey Marine
1957 Sport Boat 55
CONDITION:
SHOW
STOCK #:
HE57-7DH
DESCRIPTION:
This very rare 1957 Healey Marine 55 Sport Boat has been meticulously restored to its original grace by Classic Showcase. The restoration was complete, comprehensive and documented...
Jaguar
Jaguar-Projects
Jaguar-XKE
MG
1959 A Twin-Cam Roadster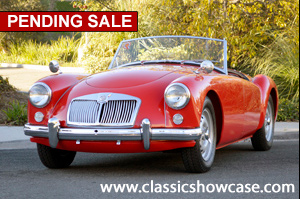 CONDITION:
SHOW
STOCK #:
MG59-754
DESCRIPTION:
• One of 2,111 Twin-Cam examples produced
• Recent restoration by specialist James Alcorn
• Collector-owned; limited mileage & proper storage
• Striking origina...
1960 MGA Coupe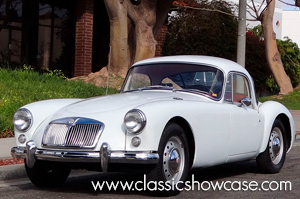 CONDITION:
DRIVER
STOCK #:
MG60-902
DESCRIPTION:
Classic Showcase just recently acquired this MGA Coupe, and has scheduled it for a future comprehensive Show/Driver restoration; This MG is a wonderful candidate to restore, as it ...
Norton Motorcycles
1953 Dominator 88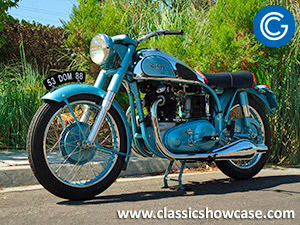 CONDITION:
SHOW-DRIVER
STOCK #:
N53-258
DESCRIPTION:
This Dominator 88 has undergone a full restoration. The bike rides as good as it looks thanks to the featherbed frame and Roadholder forks. This motorcycle has been completely rest...
Porsche
Triumph Motorcycles
1966 TR6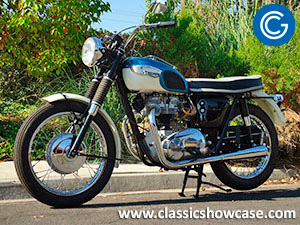 CONDITION:
SHOW-DRIVER
STOCK #:
TR66-316
DESCRIPTION:
This TR6 was previously maintained by the well know Triumph restorer, Bill Hoard for over 20 years. While in his possession he completed the following work: new main bearings, rod ...
1973 Daytona 500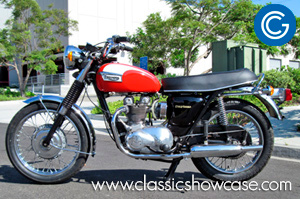 CONDITION:
SHOW-DRIVER
STOCK #:
TR73-524
DESCRIPTION:
This bike was restored as needed. The engine has new pistons, rings, and valves, and the carburetor has been rebuilt and the cables and controls are all new. It has new paint and m...